Welcome to Picasso House Painting & Faux Finishes!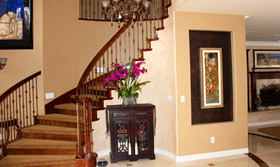 Picasso House Painting & Faux Finishes Specializes in Venetian Plastering and Faux Painting up scaling Ceilings and Walls with Hand Finish Textures and adding a Touch of Class with beautiful metallic finishes to Wrought Iron Railings & Furniture that will take your breath away.
We Service Orange County, Los Angeles, San Diego and throughout The State of California.
We have over twenty years experience in residential painting and our portfolio includes homes of all sizes. We take pride in helping our customers use colors and textures to create a truly unique look for their home and a finished job that delights their pride of ownership for many years.
As you will see our impressive portfolio ranges from small homes to large homes. Our craftsmanship and immaculate workmanship is based on going beyond our clients' expectations. This is where we separate ourselves from our competitors! We put our heart into every project because we care. There are so many ways of up-scaling your ceilings and walls with an added touch of class without costing you a fortune.
Contact us today to find out more.
More