Services
Picasso House Painting and Faux Finishes is a professional interior painting contractor for the Orange County and San Diego County areas. We believe in quality work, exceptional craftsmanship, while maintaining a clean and usable space throughout the process. Our services can be used for the most simple of ideas to the most exotic. You will recognize our professionalism and attention to detail when working with us on creating your new space.
Cabinet Refinishing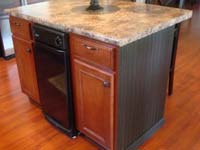 Tired of looking at your old cabinets? Save your money, there is no reason to replace your cabinets. We can save them and recreate a new look for you and save you from a major mess and remodel. Most cabinets have a thin layer of veneer and very little solid wood. We light sand the topcoat of the finish than apply two coats of primer than sand again. Than we apply two coats of the finish paint. This is where we upscale your cabinets. Most doors and drawers have detail around the panels, this is where we can give your cabinets a an Old World look or Antique look with glazing or faux finishing. After we have completed the decorative finish, then we add a clear coat for protection and cleaning. When your cabinets are completed they will look like they came out of a Showroom.
Faux Painting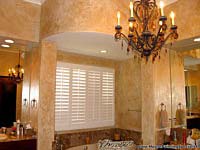 Faux Painting involves many different techniques that combine paint and glaze using various tools to create finishes that imitate marble, stone, suede, leather, wood and the list goes on endlessly. Most of our popular Faux Finishes is from applying a hand finish texture over your existing walls and ceilings that have an orange peel or a knock down texture. Our most popular finish and less expensive is our Spanish Texture that is applied right over your existing orange peel or knock down with a hawk and trowel. Than we apply two coats of paint and complete your finished look by applying the glaze with a rag. Our Old World Finishes are simply beautiful. Before we can create your Old World look we have to smooth coat over any existing textures, than we create the Old World with a hawk and trowel, two coats of paint and apply the glaze for the end results with a rag. Faux finishes and Hand Textures that we create as well. Mediterranean, Santa Barbara, Tuscan, Traditional and contemporary. Venetian Plaster and Faux Painting both can be completed using metallic glaze and metallic wax. Please feel free to visit our Showrooms in person to see our work displayed. If you can imagine your finishes we can create it.
Interior Painting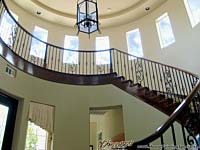 Your walls can be the blank canvas that hold your family photos, modern art work or the old world styles of antiques and accent pieces that define a room. Whatever your style may be, we have the ability to turn that canvas into a quality, professionally manicured space. We can soften a room's lighting with our flawless faux painting, or brighten a space with our exceptional quality paints and color selections. We enjoy taking a space and creating fixture with colors and textures that will subtly draw your attention.
Italian Venetian Plaster Finishes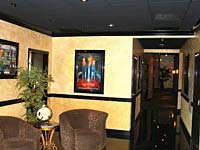 Plaster is an old world technique that starts with lime stone rocks from rivers and quarries from Italy. Our techniques have been developed to give a multitude of different effects from suede to marble to stone. It is through our imagination where the elegant effects are created using hawks and trowels. Plaster effects can be used in several styles such as Old world, Tuscan, Contemporary and Traditional. Venetian plaster can be burnished, waxed and buffed for a mirror like finish. Venetian Plaster can also be completed using a sealer that will allow for a subtle finish. Both products will protect the Venetian Plaster from water and dirt. As you will see on our portfolio you will find finishes that you have never seen before. This is where we separate ourselves from our competitors. The finished results of transforming your Ceilings and walls with Venetian Plaster are simply and truly a beautiful look.
Additional Information
Custom Painting
Interior Painting
Exterior Painting
Hand Textures
Santa Barbara Finishes
Italian Venetian Finishes
Faux Finishes
Fine Architectural Finishes
Tuscany Finishes
Old World Renaissance Finishes
Mediterranean Finishes
Spanish Finishes
Custom Design & Consulting | Clean & Immaculate Workmanship
Personal Attention | Color Specialist